Renewable power
Global population is steadily growing. While the standard of living is fast improving for many, the world's natural resources are becoming scarce and enormous amounts of waste are being generated. Renewable power generation can contribute to the long-term sustainability of our planet and provide substantial benefits for our climate, our health, and our economy. Alfa Laval has a broad range of equipment and services to support the growth of renewables.
Applications associées
Produits associés
Services associés
Tous
Air heat exchangers wetted
Automatisation
Chaudières
Échangeurs thermiques à plaques
Échangeurs thermiques avec batterie ailetée
Échangeurs thermiques avec tubes ailetés
Équipements de mélange
Filtres à rinçage automatique
Filtres et protection
Membranes
Réchauffeurs
Séparateurs centrifuges
Solutions de dessalement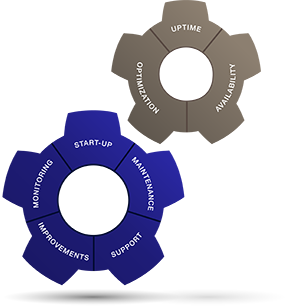 Notre réseau de services mondial regroupe des spécialistes qui ont une bonne connaissance de votre industrie. Nous sommes là pour vous soutenir par la disponibilité de nos pièces de rechange et notre expertise, quels que soient vos besoins et où que vous soyez.
L'offre de services à 360° d'Alfa Laval couvre tous vos besoins, tout au long de la durée de vie de votre équipement, depuis la mise en service, la maintenance, l'assistance et les améliorations, jusqu'aux services de surveillance, pour obtenir une fiabilité, une disponibilité et une optimisation maximales.
En minimisant votre coût total de possession, nous vous permettons de garder une longueur d'avance sur la concurrence.
Pour en savoir plus sur notre offre de services
---
Demande de devis pour Renewable power