Moteur et transport
Alfa Laval's advanced heat transfer, filtration and separation products and solutions ensure engines perform efficiently, with the lowest life-cycle costs and minimal impact on the environment. Alfa Laval's ability to integrate these technologies into your engine, either, individually or in combination with each other, results in high levels of compactness and low weight.
Applications associées
Produits associés
Services associés
Tous
Échangeurs thermiques à plaques
Échangeurs thermiques avec batterie ailetée
Filtres à rinçage automatique
Séparateurs centrifuges
Solutions de protection de l'environnement
Solutions pour eau douce
Solutions pour gaz d'échappement, Marine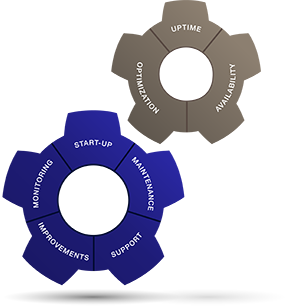 Notre réseau de services mondial regroupe des spécialistes qui ont une bonne connaissance de votre industrie. Nous sommes là pour vous soutenir par la disponibilité de nos pièces de rechange et notre expertise, quels que soient vos besoins et où que vous soyez.
L'offre de services à 360° d'Alfa Laval couvre tous vos besoins, tout au long de la durée de vie de votre équipement, depuis la mise en service, la maintenance, l'assistance et les améliorations, jusqu'aux services de surveillance, pour obtenir une fiabilité, une disponibilité et une optimisation maximales.
En minimisant votre coût total de possession, nous vous permettons de garder une longueur d'avance sur la concurrence.
Pour en savoir plus sur notre offre de services
---
We supply these technologies to engine manufacturers working in many markets around the world, to help provide reliable, high performing diesel and gas engines to their mining, railway, marine, power generation and industrial customers.
We offer a broader array of products and application expertise for cooling, filtration and crankcase gas cleaning of diesel and gas engines.
Our products increase your engine's performance by:
Extending engine lifetime
Extending oil lifetime
Eliminating filter cartridge disposal
Improving cooling efficiency
Reducing unnecessary engine loading
Reducing crankcase emissions
Demande de devis pour Moteur et transport