Performance Audit optimizes the steam cracker of a global petrochemical company
A global petrochemical company uses nine Alfa Laval M30 gasketed plate heat exchangers to cool process water at its steam cracking plant in Antwerp, Belgium.
DATE
2023-11-28
The plant experienced unnecessary downtime because these titanium-plate heat exchangers required frequent reconditioning.
To optimize heat exchanger performance, Alfa Laval recommended an Alfa Laval Performance Audit Gasketed Plate Heat Exchanger (GPHE), one of the services in the Alfa Laval 360° Service Portfolio.
Subsequent Performance Audits at regularly scheduled intervals ensure optimal heat exchanger performance, increased plant output and reduced maintenance costs due to the right maintenance at the right time.
Products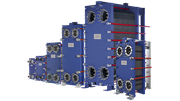 Alfa Laval Industrial line is an extremely wide product range that finds its use in virtually all types of industries. The number of sizes, plate and gasket materials and available options are enormous. Every detail is carefully designed to ensure optimal performance, maximum uptime and easy maintenance.
Benefits of Performance Audits
Insights on the performance of each individual M30 plate heat exchanger.
Optimal heat exchanger performance, which increases total output of the installation.
Reduced annual maintenance budget by conducting the right maintenance at the right time.