Transmetteur de température
Temperature transmitters provide accurate and reliable temperature measurement in hygienic and pharmaceutical production.
Fast, accurate temperature measurement
Alfa Laval temperature transmitters are compact hygienic measuring devices that provide accurate temperature measurement. Temperature transmitters cover a measuring range between -20 and 150 °C (-4°F and 302°F). The sensor tip design ensures fast response times and accurate measurements.
Hygienic temperature transmission
Compact in design, Alfa Laval temperature transmitters are authorized to carry the 3-A symbol and meet FDA and EHEDG standards.
Alfa Laval temperature transmitters feature stainless steel field housing with excellent surface finish, which make them suitable for use in hygienic applications. All wetted parts are made of AISI 316L stainless steel; as an option, wetted parts can be supplied with surfaces electropolished down to Ra>0.4. All process connections provide high cleanability and are tightly sealed to prevent entry of bacteria.
For more information, please refer to Documentation.
Product Benefits
Provide accurate temperature measurement

Hygienic temperature transmission

Stainless steel
Catalogue des produits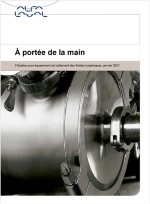 Dernière version en ligne « À portée de main »
The Alfa Laval temperature transmitter features a fast response PT100 sensor tip. The sensor element is as standard a DIN A sensor element with a 4-wire connection to the built-in transmitter. This ensures full resistance compensation and enables reliable and accurate
measurements of process temperatures with a standard analog output of 4-20 mA. Accuracy typically ranges from ±0.25 °C to ±0.5 °C. A 4-20 mA HART® output or Profibus-PA interface is also available.