Participez à notre événement Net-Zero #3
Rejoignez le mouvement pour l'efficacité énergétique, la durabilité et la circularité avec Alfa Laval. Nous avons réuni un groupe d'intervenants extraordinaires pour présenter nos solutions à certains des plus grands défis climatiques de notre époque.
Participez gratuitement à notre événement Net-zéro en ligne.
(langue : anglais - ENG)
Date: 15 Février , 14:00 CET
Durée: environ 45 minutes


Programme
Opening
Thomas Møller, President Energy Division, Alfa Laval

Energy efficiency
Alfa Laval T21 – The new versatile heat exchanger
Introducing the new T21 – Efficient heat transfer for every application. The wide array of plate options allows for precise tailoring making the T21 suitable for applications ranging from data center cooling to heating and cooling of buildings. The new T21 is our most versatile heat exchanger to date.
Alfa Laval and EcoDataCenter – Collaborating to develop sustainable data centers ​
We are in the middle of a digital revolution and data centers are increasing in number and size all over the world. Our job at Alfa Laval is to make sure that data centers and their customers can grow in a sustainable way.
The smart heat exchanger – Boosting performance with connected solutions
A generation leap for the Alfa Laval heat exchanger. Accelerating your sustainability journey and reducing your operating costs with our smart connected solutions. Making sure your heat exchanger is always performing at its best.
New, innovative cooling solution for edge data centers
The Alfa Laval Cooling Pod is a complete data center cooling system fitted in 20 ft container. Based on well-proven air-cooling technology, the Cooling Pod is extremely flexible and quick to install and offers unparalleled operational reliability.
Clean energy
Launching AlfaNova GL50 –

Alfa Laval's first heat exchanger

d

eveloped for tomorrow's fuel cell

systems


​​​​​​​Alfa Laval's plate heat exchangers for fuel cells enable optimal system efficiency by minimizing energy losses. We have expanded our innovative heat exchanger range to help accelerate decarbonization via fuel cells with the new AlfaNova GL50 – Our first heat exchanger specifically developed for fuel cell requirements.
Liquid Wind – Renewable eMethanol production
Liquid Wind enables conversion of carbon dioxide emissions and green hydrogen into the carbon neutral fuel eMethanol. Together with their expert technical consortium, Liquid Wind are now developing their first commercial-scale eMethanol facility in Sweden. Claes Fredriksson, CEO of Liquid Wind, will join the Net-zero launch event.
Circularity
Safety and sustainability in mining – From exploration to tailings dewatering
​​​​​​​Alfa Laval's solid bowl centrifuges are suitable for mining duties, from exploration to mine tailings dewatering. They enable water reuse while allowing dry disposal of tailings solids. They offer significant lifecycle cost savings and make tailings management a safer and sustainable way of working compared to tailings ponds.
Minimize waste and maximize efficiency in construction drilling
Minimize waste, reuse water and lower chemical consumption through cleaning your drill slurry with the Alfa Laval decanter centrifuge. Our range increases the drilling speed through continuous cleaning and the smaller portable units are perfect for all construction drilling operations.
Summary and closing
Thomas Møller, President Energy Division, Alfa Laval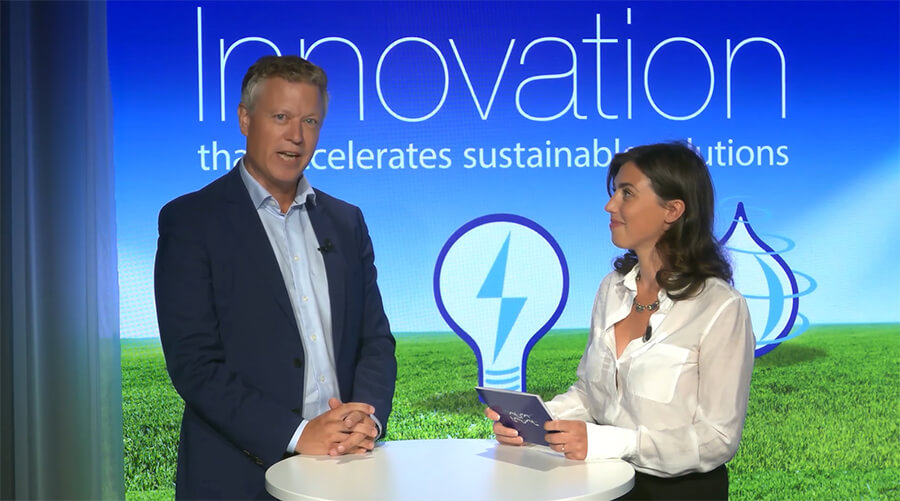 Éditions précédentes Net-zero :
Si vous avez manqué les précédents événements de lancement de Net-zero d'Alfa Laval, vous pouvez visionner les rediffusions (ENG).
Accélérer les solutions durables
Avec ses clients et ses partenaires, Alfa Laval accélère la transition vers des solutions énergétiques plus efficaces et plus propres, et développe l'économie circulaire. Nos profondes connaissances industrielles nous permettent d'optimiser les processus clients, de relever les défis les plus complexes et de continuer à rendre le monde meilleur jour après jour.
Meet our experts in the studio
Thomas Møller
President Energy Division, Alfa Laval

After finishing his Chemical Engineering degree at the Technology University of Denmark, Thomas joined an American company for 5 years. He worked with sales and the business development of separation technologies before joining Alfa Laval in 2002, where he has had several positions in sales, business development, strategy development, and execution.




Julien Gennetier
President Gasketed Plate Heat Exchangers, Alfa Laval

Julien Gennetier has more than 20 years of business experience in a wide range of industrial sectors, such as Food, Process Industries and HVAC. He is committed to deploy and develop solutions that create a more energy efficient and decarbonized tomorrow with the help of technology and collaboration.


Malgorzata Moczynska
President Brazed and Fusion-bonded Heat Exchangers, Alfa Laval

Driven by people, progress, and results, Malgorzata has been working 24 years in several leading positions within Alfa Laval. She is committed to the challenge of the energy transition and is proud to work with innovative products and diverse global teams that contribute to creating a cleaner tomorrow.
Jo Vanhoren
President Welded Heat Exchangers, Alfa Laval

Jo comes from a position as Cluster President for North America, where he secured sturdy growth improvements. He is proud to be part of a company that shares his passion for creating sustainable solutions. Jo has been working throughout his career with heat exchanger technology which is the vital component in energy efficiency and our goal to reach net zero.
Karin Forsberg
President Energy Separation, Alfa Laval

Karin's passion for the role of smart technology in creating sustainable solutions has led her to work in a range of positions at large organizations and small entrepreneurial businesses. Whatever the subject, Karin is driven by the people around her to work together and make technology work smoothly in practice.



Sara Widestadh
Head of Service, Gasketed Plate Heat Exchangers, Alfa Laval

Sara Widestadh started in the food industry, where she worked with supply chain & logistics, service development, business management, and transformation. She joined Alfa Laval one year ago as head of Services and is passionate about how service can contribute to creating a cleaner, more sustainable future.
Eva Pétursson
Executive vice president, Head of Research and Innovation, SSAB

With a research background in structural design Eva joined SSAB in 2006 in a role supporting customers utilizing the potential of high strength steels. Acting as a link between industry and the research community has always been an important part of her responsibility. Now in a corporate role supporting the fossil-free journey for SSAB.